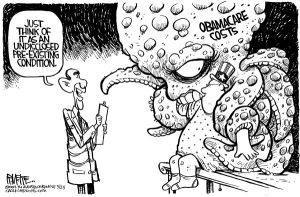 When Washington conservatives gather to talk among themselves, and the discussion turns to Obamacare -- it happens pretty frequently -- it's not unusual to hear predictions that the president's health care law will "collapse of its own weight." It's a "train wreck," many say, quoting Democratic Sen. Max Baucus. It's unworkable. It's going to be a big, smoking ruin.
Some predict chaos beginning Oct. 1, when the law requires Obamacare exchanges, the online marketplaces in which people will be able to shop for insurance, to be up and running. And maybe that will happen; the day is a little more than two months off, and the administration seems far behind schedule in the work that needs to be done.
On the other hand, a lot of thoughtful conservatives are looking beyond Oct. 1 to Jan. 1, the day the law (except for the parts the president has unilaterally postponed) is scheduled to go fully into effect. On that day the government will begin subsidizing health insurance for millions of Americans. (A family of four with income as high as $88,000 will be eligible for subsidies.) When people begin receiving that entitlement, the dynamics of the Obamacare debate will change.
At that point, the Republican mantra of total repeal will become obsolete. The administration will mount a huge public relations campaign to highlight individuals who have received government assistance to help them afford, say, chemotherapy, or dialysis, or some other life-saving treatment. Will Republicans advocate cutting off the funds that help pay for such care?
read more:
http://www.jewishworldreview.com/0713/york.php3#.UfejvI3VDeJ