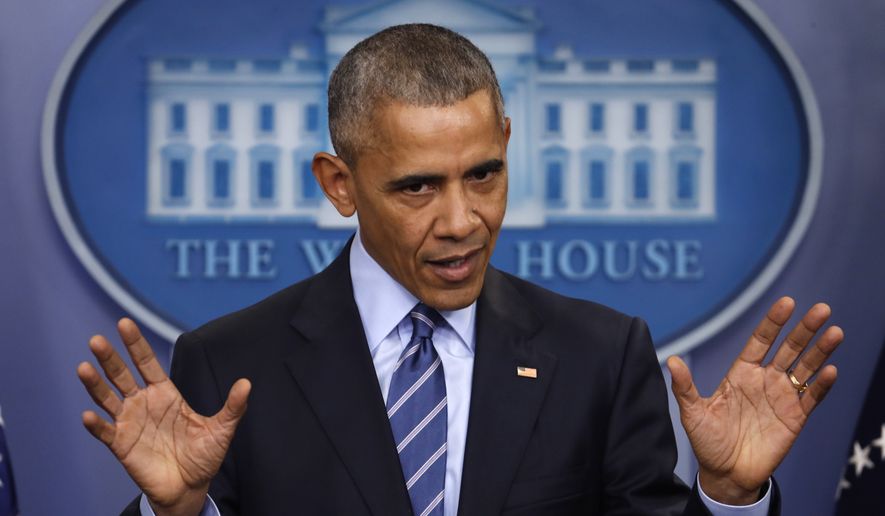 By Tom Howell Jr. - The Washington Times - Friday, December 30, 2016
President Obama will huddle with House and Senate Democrats on Wednesday to discuss their fight against Republican efforts to repeal Obamacare in the new Congress.
The meeting will take place in the Capitol Visitor Center's auditorium and last for about an hour, according to a congressional aide.
Stung by a November election that handed Republicans the keys to health reform, Democrats are brainstorming ways to push back against GOP plans to use a fast-track budget tool to gut the Affordable Care Act in the first months of the new Congress.
Sen. Bernard Sanders, Vermont independent, and Democratic congressional leaders have called for nationwide rallies during a "day of action" on Jan. 15 to decry the repeal and potential plans to replace Medicare's open-ended entitlement for seniors with a premium-support model favored by Speaker Paul D. Ryan.
White House guidance provided to Congress said Mr. Obama will thank Democrats during the meeting — first reported by Politico — for helping him drive the uninsured rate to historic lows. He will also discuss ways to strengthen the law.
http://www.washingtontimes.com/news/2016/dec/30/obama-huddle-capito...