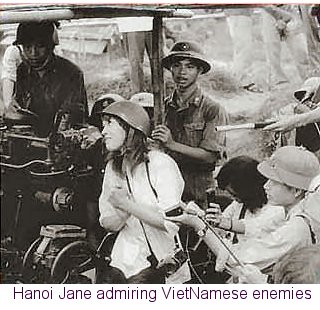 Though our recently seated U.S. ambassador to the United Nations was only a toddler when Jane Fonda committed treason in Vietnam, at this stage in her career there's no excuse for not knowing about "Hanoi Jane's" history of anti-war "activism." Thus, her comments on Wednesday are utterly inexcusable.
Speaking at the United Nations Association of the USA 2013 Global Leadership Awards in New York, Powers said, "Hi everybody," according to a transcript. "You know life has changed when you're hanging out with Jane Fonda backstage. There is no greater embodiment of being outspoken on behalf of what you believe in — and being 'all in' in every way — than Jane Fonda. And it's a huge honor just to even briefly have shared the stage with her."
As a reminder:
 In July-August 1972 Fonda made her infamous trip to North Vietnam. By this time, over 50,000 Americans had been killed in the war. While there, she posed for pictures on an anti-aircraft gun that had been used to shoot down American planes, and she volunteered to do a radio broadcast from Hanoi. […]
read more:
http://townhall.com/tipsheet/leahbarkoukis/2013/11/10/oh-great-un-a...